Hello! I'm so excited to share our master bathroom makeover with you today! My goal was to spend as little as possible but with a big impact. I'm pleased with the results and hope you like it to.
Let's start from the beginning with the BEFORE pictures.
Just a standard bathroom that we have done nothing to in the almost 4 years we've lived in our house.
Our master bath is in the "new" part of our house. We have a new addition that was added probably 6-7 years ago by the old homeowners. They added on 3 bedrooms, master bath and basement garage. We heart our house.
Lots of wood begging me to paint!
And here it is today!
Good-bye wood! Hello calm and serenity!
Wall Color: Silver Setting-Behr
Trim/Vanity/Cabinet color: Delicate White-Pittsburg
Photos are pretty random. But I'll explain as we go.
I decided to make the knobs, fixtures and such silver in this room. I tend to go for oil rubbed bronze...but I thought I would change it up in here. I was inspired by the light fixture that was already here when we moved in. It's silver but there is some glaze work to it.
So I got out my magic paint.
And glaze...color is asphalt. I've had this for years and it's finally almost gone. A small amount goes a long way!
I gave them a good cleaning. Primed. Spray paint silver. Add some glaze.
I love the look!
I then added a sealer, just for a little protection in the moist environment.
I kept the old towel and toilet paper holder. They were a shiny silver before and did the same treatment as I did to the knobs and pulls. They are a spitting image of the light fixture finish!
For the mirrors, I decided not to put back the "builder mirror" that was there before. I decided to use 2 $1 each garage sale mirrors I got this summer.
Before
I primed them and then added Oil Rubbed Bronze.
We don't have his and hers sinks but now we have his and hers mirrors. :)
I love that they don't match.
The yellow was an unexpected accent color. I found this FAB shower curtain at Target on clearance for $7!
I love the paisley design.
To the cabinet and and vanity, I sanded them down and added Early American Stain for a little aging. I did spray them with the Sealer Spray as well.
The gap up top looked unfinished so we added trim around the area to make it look like it was part of the cabinet.
I used some thrifty frames for decor. They ranged from 19 to 50 cents. They originally came in all different colors: gold, silver, wood, red. I primed them and painted them heirloom white (I forgot to take a picture of the can).
I painted a simple pumpkin on muslin.
Very easy.
I got some scrapbook paper from Hobby Lobby. This makes for easy and cheap artwork.
I love the color of this one.
An easy towel rack I made with 30 cent old trim and 10 cent hooks.
I added a little white paint to it after some cleaning and sprayed some sealer on it, just seal the chippy paint.
The plate was FREE!
Here's a close up the painted/distressed wood.
Even painted the door. It took several coats but well worth it!
I did most of the work myself but hubby did the crown molding. That was my biggest expense of the room but it added so much.
Details...the black box was from the Hobby Lobby Clearance isle for $4 I think. Kind of expensive for me but I like it. :)
I stole the vase from our other bathroom to add some more splash of yellow.
The curtain I made from 2 pale yellow napkins that I got on sale at Target. I used hot glue...my way of sewing.
The platter I got for $1 at a garage sale.
The bottles were $1 each at a garage sale.
I even painted the brass door knob.
I used these.
And that's our new bathroom. Besides getting a new makeover, it got a good cleaning from head to toe, so it feels brand new as well.
I hope you enjoyed the tour. Thank you so much for stopping by!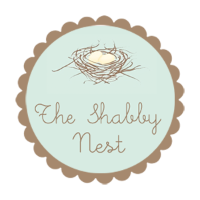 Best DIY Projects of September-Beneathmyheart.net