Happy Friday! It's cold and yucky outside. I know it's February but Nebraska was definitely spoiled with spring temps lately. Then mother nature reminded us it was still winter yesterday with snow and wind. Brrr...
I wanted to share with you a couple other treasures I picked up last weekend while I was doing my alone mommy time.
I wasn't planning on it but I stumbled upon my first garage sale of the year. Well I thought it was until I went in the house and a sign said "all prices FIRM". So right there I knew it would be expensive. Victorian, cottage and primitive old pieces filled this house and with high prices to match! When I say high, I mean a $900 old bed, $1000+ table and chairs. Thrifty me was in the wrong place. LOL
But I went down to the basement and there were a few cheaper items. And I picked up this small cute pitcher for $3.
She's really cute.
I also wanted to share the other fun item I got at
Simply Bungalow
. This fun picture holder made out of old moulding. Cute huh?!
The Simply Bungalow gals showed me more moulding that they are going to sell at their Spring Open house. Boxes of fun pieces. I think my eyes boggled out of my head. :)
They were so generous and gave me a wonderful piece with great detail and chippy/crackly paint.
The picture holder was their idea. They showed me that they purposely left in 2 of the 4 nails in the moulding. That way, you could prop it up on a table for display. Genius!
You can kind of see the square nails.
Square nails=old.
Sorry about the poor quality of pics-I took these at night.
So with their idea in mind, I thought about what I could use to make this piece of moulding into a picture holder. Many things can be used. Like a small clothespin or many different kinds of paper clips from the the office supply section...
Here's a past project that I used wired and attached black paper clips, too.
But I wanted to think outside the box on this special piece. So I rummaged through my rusty junk drawer and found an old door hinge that would work perfect.
I attached it to the side with 2 rusty screws. We also have a small stash of those, too.
Then I took a round magnet and hot glued an old button on it.
And now I have a super cool picture holder. It would also be great for a recipe card holder.
Thanks
Simply Bungalow
for the idea! And for the Lincoln area followers/readers: Simply Bungalow will be having their own version of picture holders like these at their Spring Open House on March 18th and 19th. So get them while they're hot!
~~~~~~~~~~~~~~~~~~~~~~~~~~~~
Thank you all again who joined in on Terrific Under Ten this week! I had a great time looking through all your wonderful projects. Here are a few I would love to feature today!
Gwen from
Gwenny Penny
madeover a $1.99 Goodwill cheese cover into a sweet cloche. I love the little nest and eggs.
Susie from
Puddle Jumper Creations
made these cute personalized towels for graduation gifts for her daughter and friends.
Heather from
Summerstead
made this cute wreath from pages out of an old book. I'll be on the lookout for old books at garage sales this summer. :)
Susan from
Homeroad
made over her old room divider with chicken wire and other assessories. I like the idea she gave of spray painting the chicken wire with rust colored spray paint. :)
If you were featured today please add a "I was featured" button to your blog!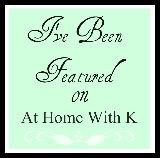 Have a great weekend!