First of all, I want to say THANK YOU! to Kindra for featuring my project. She is one of the nicest bloggers I have met so far and it is a pleasure to 'know' her.
Since starting blogging, it has inspired me to be more creative in a lot of aspects of my life and I have loved it. I don't have a lot of money to spend or space in my house. So although it can be more challenging, it is super fun to say 'yes, I made that! And for like 2 bucks!' So I am going to share with you my most recent finished project, what I made for my front entry way. Here it is:
And now for the tutorial, really simple and inexpensive ladies! That is the best part!
Here are the materials I used:
Canvas board (size of your choice)

Black tissue paper

Old book (I used the

same one

as my last project!)

Modgepodge glue

Hot glue gun and glue

cardboard (not pictured)

I used the letter 's' for the finished project
I started by decopauging the canvas board with the black tissue paper. Not neatly so it has a personality! And trust me, I am good at not being neat. Then you let it sit overnight to dry.

Then I proceeded to make a ton of little flowers for the heart. You cut out a spiral. It doesn't have to be perfect, but make it a circle, ovals don't work nearly as well. Start at the outside and curl in.
You will come to the end and it will look like above. Add glue over the entire base and seal with the remaining flap of paper like below.
May I suggest putting on a good movie and bustin' out these bad boys. I just sat at the table by myself. Not nearly as fun!
Isn't it cute? I am sure you could find a ton of ways to showcase these beauties!

<>gt;><> >>>>>>>>

>>>
Voila! My petite fleur!
(I live in France, so I think in French sometimes, sorry!)
I cut out a heart shape on a book page. I realized it was a bit flimsy so I attached it to a piece of cardboard I cut in the same shape. So if there were any spaces, it would be another book page. I glued all the flowers on with hot glue, starting on the outside and moving in to make sure I kept the flower shape. I stuck them in there as tight as they would go!
I don't have a picture, but I am sure it isn't that hard to figure out, I glued it to the decopauged canvas! The great part about this project is that the heart could be any shape you want! Like maybe a little bird, which are popular now, but with a cute material on it instead of the hearts. It is all left to your style and imagination!
Here is how I used my finished project: 
My little picture wall in our entry way.

<>lt;><><><><><><>>>

>>>>>>>>>
Thank you all for reading along today, I hope you enjoyed the project! I would love to have you stop over at
'my place'
any time! And thank you again Kindra for putting up this feature, you are awesome!
Thank you so much for guest posting today, Natalia! Isn't this a fun project?! I just love the look of the book page flowers. Natalia started her blog last month but she has shared so many projects, recipes and her wonderful style in such a short amount of time. She also started a new linky party on Mondays called Projects in Progress, that I hope to link up to soon.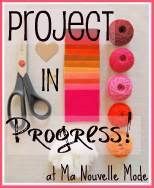 So go check out her out and show her some comment love!