I worked on another FREE makeover this week. I made this fun cabinet door picture frame!
I've been brainstorming forever what to do with this. Then a light bulb finally clicked this week. How about a picture frame?
So I decided what sizes to cut my squares. I chose to cut a 4''x4'' square in the middle and (2) 4''x6'' rectangles. I just used a ruler to draw my shapes that I needed to cut out. Then a jigsaw was used to cut out the openings.
I took some scrap 1/4'' thick leftover plywood that I had lying around and cut them a little bitter than the square/rectangles in the cabinet door. Then I glued them to the back side of the cabinet door. I would use a heavy duty glue like gorilla glue.
Before I added the back plywood pieces, I painted the door first. I left the outside trim the same black but painted the inside beadboard and plywood pieces an antique white. I then sanded down the cabinet door to give it a good distressing. Then I applied some Early American MinWax stain to give it a richer look.
After it was dry, then that's when I added the back plywood pieces. Also add a sawtooth hanger to the back for easy hanging.
Now it's time to get your favorite photos out to enjoy! I use poster putty but you can also use photo safe tape as well. Then they can easily be changed out.
If you don't like it vertical then enjoy it the other way!
This was a fun and easy project...and don't forget FREE!
So be on the lookout for those old cabinet doors at salvage centers/garage sales. Garage sale season is coming up! Woop! Can't wait!
~~~~~~~~~~~~~~~~~~~~~~~~~~~~~~~~~~~~~~~
Thanks again for all who linked up to Terrific Under Ten Tuesday this week! Here are a few projects I would love to feature today.
I love lemonade. It's my favorite drink. :)
If you were featured today, please grab an "I'm Featured" button for your blog!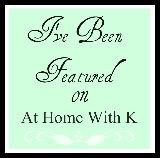 I'll be linking up to a few of these linky parties.