Hello all! I'm Jennifer from
Vintage Gwen
 and I'm so thrilled and honored that Kindra is hosting my Necklace Redo Series Giveaway!
For the past 6 weeks I have been transforming 6 Goodwill necklaces....
They were each $2 and every redo is $10 or under. It's been a blast to see the transformations and I wanted to share one!!
Here's a recap!
#1
#2
So one lucky winner will get their choice!
But wait that's not all!!
There is a Bonus Redo that you'll get too!! Yep! I couldn't help myself! Actually I had left over chain from #4.........
Added some pink(of course) ribbon and got the easiest bracelet ever! Make sure and come over and see the final result!!
So one last time......
There's still more!!!
(I feel like a commerical!)
See I'm not new at making jewelry...so I have a stash and the winner is getting these two stretchy bracelets as well!!
So your choice of a Redo, the Bonus Redo and 2 stretchy bracelets. That's almost a haul!!
Rules for entering:
Required:
Extra entries:
Share the giveaway on Facebook.
Share the giveaway on Twitter.
Blog about the giveaway.
Please leave a comment for each and a link if you blog about it.
You'll have until the May 11th to enter and then the winner will be announced on the 12th.
Thanks in advance for joining my Redo fun!
And thanks Kindra!!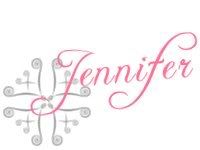 Wow! I am so jealous I don't get to enter this giveaway! I love Jennifer's jewelry makeovers! Go on over and follower Jennifer's Fab blog and come on back to enter. You have up to 4 entries to enter. Good Luck!